Chicago is the economic and cultural capital of the Midwest; a city that offers world-class tourist attractions and cultural events. Nestled among the skyscrapers and within blocks of the city's beautiful lakefront, North Michigan Avenue is where residents and visitors come to feel magnificent. We fondly call this area the Magnificent Mile.
The Plan of Chicago, written by architects Daniel Burnham and Edward Bennett in 1909, called for a grand Parisian boulevard built in Chicago similar to the Champs Elysee. The idea was to create a bridge to connect Michigan Avenue south of the river with an underused area on the north bank and develop a new commercial district.
If you stand on the DuSable Bridge (formerly Michigan Avenue Bridge) you will see several of the district's architecturally significant buildings including: the Wrigley Building, Tribune Tower, 333 N Michigan Ave, London House, Marina City and Trump Tower. At night, you can watch the fireworks at Navy Pier from the Bridge.
The Magnificent Mile, often referred to as simply The Mag Mile, is an upscale shopping district located in the heart of downtown Chicago right on Michigan Avenue. Stretching from the Chicago River to the south to Oak Street in Chicago's Gold Coast to the north, The Magnificent Mile presents a one-of-a-kind atmosphere to anyone who lives, works, or plays in this part of downtown Chicago.
The Magnificent Mile is in the heart of the city's famous culinary scene, featuring award-winning dining at more than 275 restaurants. Experience a wide range of locally-sourced ingredients and international flavors. Outdoor patios and rooftop lounges provide great views during the summer; and there are plenty of chic and cozy Vino con Vista  venues to enjoy year round!
The Magnificent Mile district, as identified in the association's charter, encompasses a large area bordered by Randolph Street to the south, North Avenue to the north, Lake Michigan to the east, and the Chicago River to the west. It touches five neighborhoods including: New East Side, Streeterville, Gold Coast, Old Town, and River North in addition to the commonly known 13-block stretch of North Michigan Avenue that runs from the banks of the Chicago River on the south, to Oak Street on the north. The Magnificent Mile district includes beautiful residences, premier retailers, trendy boutiques, distinctive restaurants, famous museums, luxurious hotels, landmark architecture and prestigious educational and medical facilities. Although many consider the Mag Mile to be a part of the Streeterville neighborhood, it's actually recognized as the boundary line of Streeterville and River North.
The Magnificent Mile originally got its name back in the 1940s from Arthur Rubloff, a prominent real estate developer and business man in Chicago. It features some of the city's most historic landmarks: the Tribune Tower, the Wrigley Building, the Chicago Water Tower and the Allerton Hotel. The Magnificent Mile has about 3.1 million square feet of retail space, restaurants, museums, and hotels. It's estimated that 22 million people visit the Magnificent Mile annually with over 460 stores, 275 restaurants, 51 hotels, and some of the most spectacular architecture in the world!
The skyline is about to change on the Mag Mile because the historic Tribune Tower is being converted into a mixed-use project. Golub & Co. and CIM Group want to build a 1,422-foot skyscraper on a parking lot east of Tribune Tower as part of their redevelopment plans for Tribune Tower; making it  Chicago's Second-Tallest Building after Willis Tower.
Currently, Chicago has numerous skyscrapers over 1,000 feet tall including:
John Hancock Center at 1,127 ft
Aon Center at 1,076 ft
Trump International Hotel and Tower at 1,388 ft
Willis Tower at 1,453 ft
Golub & Company and CIM Group received a permit to convert the iconic Tribune Tower property into luxury condominiums. The $1B Tribune Tower Redevelopment would convert this magnificent Landmark into over 700 units. Golub Executive Vice President Lee Golub said the tower would be home to a 200-room hotel, condos, 439 apartments, 11K SF of retail space and 430 parking spaces. When completed it should push the Trump Tower from second to third tallest structure in Chicago. The yet-unnamed skyscraper, designed by architects Adrian Smith and Gordon Gill, would be Chicago's second-tallest building if approved by the city, 29 feet shorter than Willis Tower.
Tribune Tower Residences will feature 162 condos with 56 different floor plans. The units will range from $700,000 to more than $7 million, developers said, noting the designs are "sparing no luxurious detail."
"The renovated Tribune Tower presents a unique opportunity for buyers to enjoy the benefit of living in a historic icon in the most coveted location in Chicago, while offering incredible amenities that luxury buyers have come to expect," Lee Golub, principal and executive vice president of Golub & Company said in a statement. "It is a once in a lifetime opportunity to live in a one-of-a-kind building with an amazing historic pedigree. This will never come about again." Among the amenities included will be a luxury spa area, a fitness center, indoor pool, driving range simulator, meeting rooms and more. A private courtyard will offer a "residential outdoor oasis," featuring grilling stations and a sun deck, developers said. There will also be a restaurant on the 25th floor called Crown Amenity.
For more information visit:
or call 312-967-3700 for an appointment.
Belgium's Saint Rumbold's Cathedral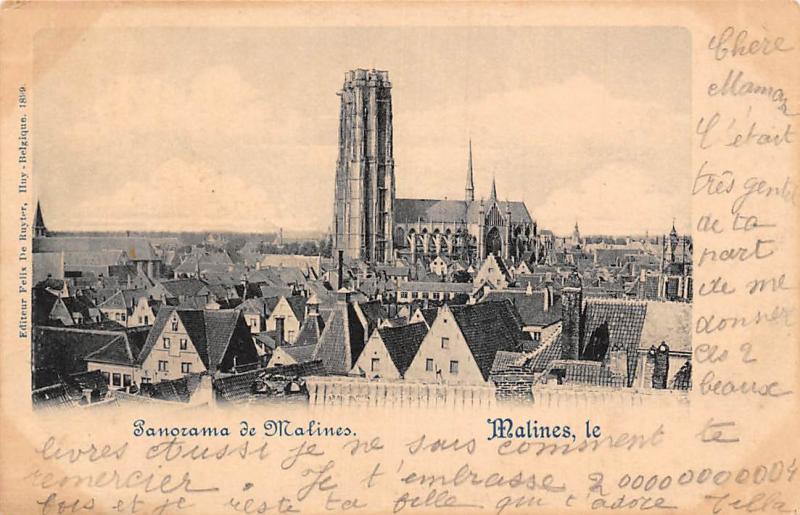 The original winning design for the Tribune Tower was submitted by John Howells and Raymond Hood. Their neo-Gothic tower rises 36 floors up into Chicago's skyline. It was influenced by the old-world grandeur of the Rouen Cathedral in Normandy France (shown below) and Belgium's Saint Rumbold's Cathedral in Malines/Mechelen. The 1922 ecclesiastical design was meant to reflect the sacred responsibility and aspirations of journalism. The result is a 456-foot Indiana limestone skyscraper of vertical lines capped by ornate flying buttresses that are decorative, not structural with a magnificent crown.
One of the tower's most recognizable features was nowhere in the design blueprints. Embedded in the facade are 150 fragments of stones from famous sites around the world.
Here's the plan for the Tribune Tower development:
The conversion of the Tribune Tower and its redevelopment is expected to cost an estimated $1 billion, and upon its completion, it should reach the height of about 1,422 ft.
The redesigned building footprint
Need to update your wardrobe? Want to score some deals at a designer trunk show in Chicago? The Magnificent Mile is one of the most vibrant and successful commercial, residential, cultural and tourist areas in the world.  Chicago's Magnificent Mile Shopping District with 460 stores concentrated in 13 city blocks with about 70 hotels. Some of your shopping options include: Water Tower Place, The Shops at North Bridge and 900 North Michigan Shops.  Popular brands and major attractions include: Macy's and American Girl Place. Soon there will be a new Sheriff in Town; the Tribune Tower Project will be another jewel in the crown of Chicago's spectacular architectural landscape.
Walk north from the Tribune Tower to discover the Hotel InterContinental, Women's Athletic Club, Water Tower and Pumping Station, Fourth Presbyterian Church, John Hancock Center, Drake Hotel and so much more.
Wander further and find examples of work from Mies van der Rohe, Frank Lloyd Wright, Louis Sullivan and Henry Ives Cobb.
Check out Chicago's magnificent architecture on the Mag Mile:
1. DuSable Bridge
On May 14, 1920, the revolutionary, double-decked steel bascule bridge linking South Michigan Avenue to Pine Street (now a continuation of Michigan Avenue) was officially opened. In 1928, the monumental bridge towers were built with Bedford stone and mansard roofs. Lined with flags, the bridge serves as a grand gateway to The Magnificent Mile and features detailed bas-relief sculptures depicting early Chicago history.
In October 2010, the bridge was renamed DuSable Bridge in honor of Jean Baptiste Point du Sable, Chicago's first permanent resident. A fur trader of African descent, he established a permanent homestead and trading post near the mouth of the Chicago River in the 1780s.
2. The Wrigley Building
410 N Michigan Avenue (1921, 1924)
Architects: Graham, Anderson, Probst & White
The design was inspired by a cathedral in Seville, Spain. One of Chicago's most recognized buildings because the brilliant night-time illumination of its beautiful white terra cotta exterior, clock, and position facing the entry of the Chicago River.
3. Tribune Tower
435 N Michigan Avenue (1923-25)
Architects: John Mead Howells and Raymond M. Hood
Home to the Chicago Tribune newspaper, this Gothic revival design won first place in a competition to build the world's most beautiful building. Flying buttresses adorn the top of the tower. The facade is inset with stones from famous buildings throughout the world.
4. 333 N Michigan Avenue
333 N Michigan Avenue (1928)
Architects: Holabird & Root
Based largely on the design which placed second in the Tribune's 1922 design competition this Art Deco skyscraper establishes itself firmly. The solid polished marble slabs on the lower floors give way to vertical bands of climbing limestone and glass.
4. London Guarantee Building
360 N Michigan Avenue (1923)
Architect: Alfred S. Alschuler
Now the London House Hotel, this extraordinary design features a concave facade facing the river. The three part design was typical of the era and includes a 5-story base and entryway, vertical bands and windows, before climaxing with a classical colonnade leading to a cornice, balustrade, and elaborate domed pavilion.
5. Marina City
The River between State and Dearborn Streets (1964, 1967)
Architect: Bertrand Goldberg Associates
These two 60-story apartment towers were constructed from poured concrete. Pie shaped units with semicircle balconies combine to a total form reminiscent of corn cobs. These buildings were used in the late 1960's to show Chicago's break from tradition and to encourage tourism.
6. Drake Hotel
140 E Walton Place (1920)
Architects:Marshall & Fox
Standing strong at the north end of The Magnificent Mile, The Drake Hotel occupies one of the most beautiful locations in the city, overlooking Lake Michigan and Oak Street Beach. Designed by Marshall and Fox in 1920 as a beach resort, the 13-story limestone structure features grand public spaces and has a rich history of famous guests. Visit the Cape Cod Room to see the initials of Marilyn Monroe and Joe DiMaggio carved into the restaurant's wooden bar.
7. John Hancock Center
875 N Michigan Avenue (1969)
Architects: Skidmore, Owings & Merrill
Located on North Michigan Avenue between Chestnut and Delaware Streets. The building's assertive and muscular exterior is aluminum and glass with distinctive x-shaped external bracing that has made it an architectural icon. Engineer Fazlur Khan pioneered this system to derive higher performance from tall structures and open up usable floor space. The X-bracing virtually eliminates the need for interior columns.
8. Water Tower and Pumping Station
800 N Michigan Avenue (1869)
Architect: W.W. Boyington
The old Water Tower is actually an ornate covering for a 138 foot standpipe which was required to equalize the pressure of the water pumped from the pumping station across the street. Oscar Wilde, visiting Chicago in 1882, called this structure a "castellated monstrosity with pepper boxes stuck all over it." But the tower endures as one of the few surviving buildings from The Great Chicago Fire of 1871. It is an iconic symbol of North Michigan Avenue.
Schedule of Events
September 26-28 Fleurs de Villes at 900 North Michigan Shops where you can visit a stunning collection of mannequins dressed by Chicago's best floral designers. www.shop900.com
The BMO Harris Bank Magnificent Mile Lights Festival returns in 2019 with a full lineup of activities, Nov 23, 2019 2:00 PM – Nov 23, 2019 8:00 PM
Kickoff the Holiday season with musical performances, live concerts at the BMO Harris Bank stage, special guests and the tree-lighting parade with the Magnificent Mile Lights Festival.
Free, family fun culminates in the grand Tree-Lighting Parade down North Michigan Avenue with grand marshals Mickey Mouse and Minnie Mouse from Walt Disney World® Resorts Florida.
Plus, check out photos from the 26th Annual BMO Harris Bank Magnificent Mile Lights Festival.
To kick off your weekend Shopping Experience, check the concert schedule at the John Hancock Plaza (875 N. Michigan Avenue).
Visit themagnificentmile.com.
Related articles