Are you going to Taylor Street's Little Italy Festa 2019 in Chicago?
Chicago's popular Little Italy neighborhood will celebrate its history and heritage from August 15-18, 2019 at the annual Taylor Street Italian Festival.
In the past, the event features a meatball eating contest, a grape stomping area, carnival rides, kids activities, cooking demonstrations, DJs and rock bands. Proceeds benefit the University Village Association.
On Saturday night, I'm going to see Tony Ocean and The Bronx Wanderers.
6:45PM-7:45PM – The Tony Ocean Show: Tony's upbeat style embodies a time from the past that will be popular as long as we still enjoy the music of Sinatra, Martin, Davis, Darin, Tony Bennett, Tom Jones and others whose romantic songs and lyrics have affected so many of our lives through the years.
8:15PM-10PM – Direct from Las Vegas…The Bronx Wanderers: The Bronx Wanderers, up close and personal, yet larger than life, take you on a journey of the greatest music of our time. The story is about a family that delivers a passionate heart-pumping mix of of Rock N' Roll's great American Songbook from the first generation right through today's current hit-makers. Buckle your seat belts because THE BRONX WANDERERS bring a high octane, toe tapping, dancing in the aisles experience that you WON'T WANT TO MISS!
This year there will be a gelato festival!!
Onesti's Taylor Street Fest presents Diva's "The Real Thing" Brazilian Trio this year,

WHERE: 1453 W. Taylor St.

Chicago, IL 60607

More than 50,000 fest goers are expected to attend, saying "Ciao" to new neighbors, and "That's Amore" about the authetic Italian food and activities. Go there to see the Bronx Wanderers.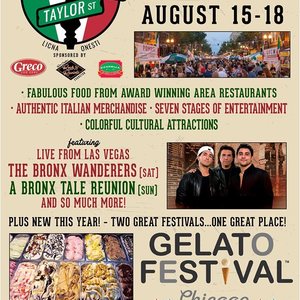 Another year I listened to  Bobby Rydell perform.
I love all the food stands.
You have to go to Rome to see the real Trevi Fountain.
Italian neighborhoods in Chicago celebrate summer with annual traditions in historic Italian neighborhoods. Taylor Street was the port-of-call for many Italians who immigrated to Chicago from the shores of southern Italy.
The Legendary Drifters'  repertoire included: "On Broadway", "Dance with Me", "Saturday Night at the Movies", "Under the Boardwalk", "There Goes my Baby", "This Magic Moment" and "Save the Last Dance for Me".  There were plenty of dancing opportunities at the annual event.
Hours:  Thursday 5 – 9 pm,
Friday  5 – 10 pm,
Saturday 12 – 11 pm,
Sunday 12 – 9 pm
WHERE:  Little Italy
Address:  Taylor St. at Ashland Ave. Chicago, IL 60606
Here's a short video of the Festival
http://www.youtube.com/watch?v=Za3laHrq66I
Many suburban Italians, whose roots trace back to Taylor Street maintain a regular pilgrimage to "the old neighborhood" on the near-west side.
Many businesses have been in this neighborhood for many generations like Chicago's legendary Gonnella bread family.
Alex Dana runs the famed Rosebud Chain in Chicago and has earned his own street sign in the neighborhood. The Taylor Street location has an incredible outdoor space for dining alfresco.
Another one of my favorite Taylor Street eateries is Tuscany with multiple locations throughout the Chicagoland area. Try the Chicken Parmigiana Sandwich or Pork Chop Vesuvio.
The festival is a mecca for foodies who want to enjoy Italian cuisine and listen to live entertainment on multiple stages.
Trattoria-style restaurants, the National Italian American Sports Hall of Fame and the historic Roman Catholic churches like the Shrine of Our Lady of Pompeii and Holy Family populate Chicago's Little Italy.
Visit Joe DiMaggio Piazza with the fountain. Enjoy a frozen lemonade from Mario's Italian Lemonade or an Italian Beef sandwich. I enjoyed the "Juicy" (dipped in gravy) combination beef/sausage from The Patio food booth and the baked clams from Pompei.  All of my friends that are not from Chicago make fun of the way I say "saaaa-sage."
Buy some olive oil from the "Italian Iron Chef". The Conte di Savoia Italian grocer and deli are offering meatball sandwiches, Italian subs and Italian desserts. Scafuri's bakery will all be offering tasty cookies. Don't forget to take a stroll in Arrigo (Peanut) Park to see the statue of Columbus.
.
Here's a list of Italian Festivals around the country: http://www.niaf.org/research/festivals.asp
Dr. EveAnn Lovero writes Italy Travel Guides and Apps @ www.vino-con-vista.com
Related articles