Modena's Cathedral has been a UNESCO World Heritage Site since 1997.
It was designed by architect Lanfranco and sculptor Wilgelmo and construction began in 1099. It is heralded as the highest expression of Romanesque art in Europe.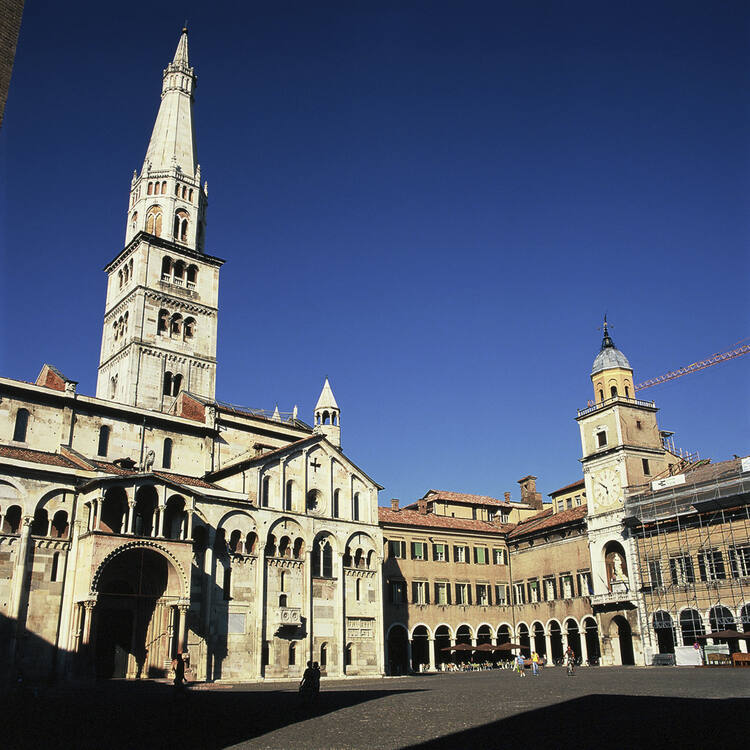 In Modena, the Torre Civica and Piazza Grande are also World Heritage sites.
In medieval times, Modena was the seat of Queen Matilda of Tuscany.  The Romanesque 12th century cathedral was the work of two great artists, Lanfranco and Wiligelmus.  It was founded in 1099.  The facade of the Duomo has a magnificent 13th century rose window by Anselmo da Campione and a beautiful  pulpit from the 15th century. The interior has a nave and two aisles and houses a masterpiece sculpted by Anselmo da Campions. The Cathedral Museum contains noteworthy collections
The Piazza del Duomo has a soaring 285 foot Campanile tower that is leaning more than the Tower of Pisa. "These structures portray the faith of their builders and the power of the family that commissioned the contruction, the Cannosa dynasty."  UNESCO
More interesting places to visit include :
1. The church of Sant'Agostino that was built in 1338 and houses the "Descent from the Cross" by Antonio Begarelli. The church of San Bartolomeo was built in 1607 and contains furnishings and paintings from the 17th century.
2. The Galleria Estense (Este Gallery) contains important paintings and sculptures from the 14th-18th centuries. Noteworthy highlights include: Tintoretto's "Madonna in Glory" and Bernini's 1651 sculpture of the "Bust of Duke Francesco I d'Este" who married Lucrezia Borgia. There are also works by Correggio, Veronese, Tintoretto and Reni.
https://www.gallerie-estensi.beniculturali.it/galleria-estense/
3. Palazzo Ducale was built during the reign of Francesco I and was designed by Avanzini over the remains of the Obizzo Castle. Visit the d'Este Library and the Ghirlandina Tower alongside the Cathedral.
4.  Have an outstanding Vino con Vista at Modena's annual "Balsamica" Festival in May and June. Designed to highlight their traditional Balsamic Vinegar, this Food and Wine Event offers cooking seminars and allows visitors to sign up for tours of vinegar making facilities. Foodies will love Modena's aromatic stuffed pork trotters.
5.  Modena is an intriguing blend of old and new.  It is a former medieval ducal capital that is known for its production of balsamic vinegar and exotic cars. Exotic cars like the Ferrari and Maserati are built here.  Enzo Ferrari was born in Modena in 1898 and his sexy designs continue to make his wheels the most sought after rides in the world! Think about the new or vintage red Ferrari you could order from the Galleria Ferrari in Maranello on Via Dino Ferrari 43.  Visit the Maserati factory@ 322 Viale Ciro Menotti. If you have a few million dollars burning a hole in your pocket, you may be able to score a coveted 1960 Ferrari; you will look great driving your 250GT California Spider in Italy. It worked for Ferris Bueller! If  I win the lottery, that's what I'm buying!!
After you place your order for your new Ferrari, dine at Montana on Via Settembre, near the dealership.  Modena is known for cold cuts like zamponi di Modena and Prosciutto di Modena. This is also a great place to enjoy some Tortellini or Tagliatell alla Bolognese with some Lambrusco or Sangiovese to celebrate your new wheels.
6. Legendary tenor, Luciano Pavarotti was born near Modena in 1935.  As you sip the local Lambrusco and listen to Luciano Pavarotti music in a café at Parco Amendola think about how Lamborghini expanded his tractor factory into a world class auto plant in the nearby town of Sant'Agata.
7. You may want to visit the Collezione Umberto Panini on the SP 486 Highway to admire 40 Maseratis.  These cars are owned by the retired business mogul.  Tour the factories in Modena's Crocetta district.
8. The top restaurants in town are:  Osteria Francescana on via Stella 22, Fini on rua Frati Minori 54 and Hosteria Giusti on Vicolo Squallore 46. Stay at the Canalgrande in Modena in a 16th century villa.
9. Don't forget to test drive a Ferrari in Maranello!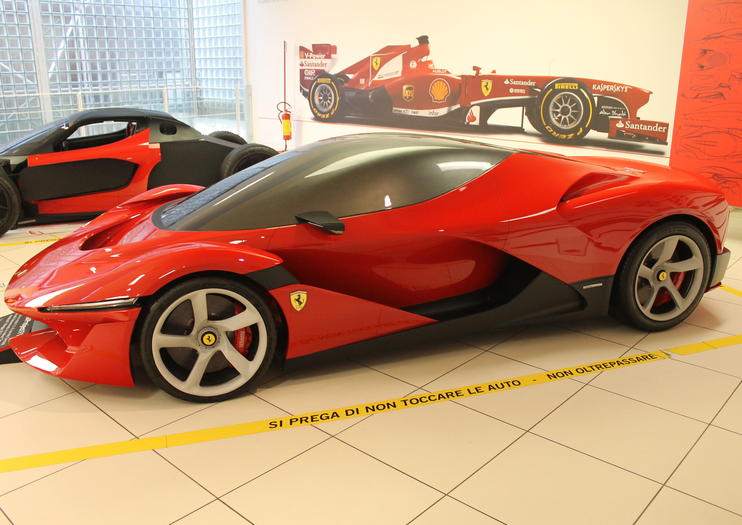 Dr. EveAnn Lovero writes Travel Guides to Italy and  Vino Con Vista Travel Guides can be purchased at these sites. 
To learn more about Italy read www.vino-con-vista.com Travel Guides.
Related articles