Located along the Southern Rhone Valley, some of the appellations in Provence include:
Muscat de Beaumes-de Venise, Tavel, Gigondas and Chateauneuf-du-Pape (new castle of the Pope) on the east bank north of Avignon.
Chateauneuf-du-Pape wine is a blend of up to 13 grapes, mostly Grenache, Mourvedre and Syrah.
Pope John XXII, the "Wine Pope", built his summer chateau north of Avignon in 1318. He was the Pope from 1316 until his death in 1334. He canonized St. Thomas Aquinas during his papacy. Visit his Papal Chateau. You can also visit the Musee des Outils de Vignerons near the Chateau with a tasting room: www.brotte.com
Under John XXII, the wines of this area came to be known as "Vin du Pape; which evolved to Châteauneuf-du-Pape."
John XXII was the second Avignon Pope; the first Pope to live in Avignon was French-born Pope Clement V. The Avignon Papacy hosted 8 popes and
lasted for 70 years. These popes promoted viticulture on the banks of the Rhone River.
Today, the 7000 acres on the Rhone's east Bank, north of Avignon is famous for chewy, majestic red wine.
Here are some Production Statistics from the official website:
area 3200 hectares
– 5 towns: Châteauneuf-du-Pape, Courthézon Bédarrides Sorgue, Orange
– Average yield: 31 hl / ha
– 90.000 to 105.000 hectoliters of average annual production
– 320 winegrowers
– 5% of the production is vinified by a cooperation cellar
– 95% of red wines are produced, 5% white
– 12.5 °: minimum natural alcohol content by volume
Schedule a visit to Vinadea www.vinadea.com, the wine-tourisn hub showcasing the Chateauneuf-du-Pape appellation with tastings in a historic former coach house.
VINADÉA
Maison des vins de Châteauneuf-du-Pape
8 rue maréchal Foch – BP 68
84232 Châteauneuf-du-Pape cedex
Tél: +33 (0) 4 90 83 70 69
http://www.vinadea.com
E-mail: vinadea@chateauneuf.com
Click here for more information: http://en.chateauneuf.com/wine-tourism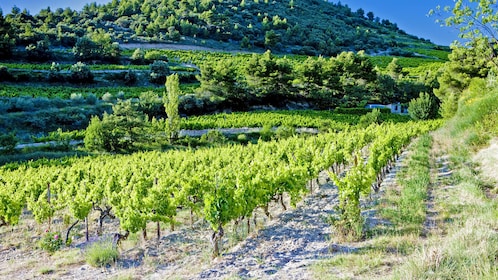 Visit the Village
For more information visit:
https://www.avignon-et-provence.com/en/tourism-provence/chateauneuf-pape
What to see:

The remains of the papal castle (XIV°).
The Hers Tower (XII°). Shrines. Chapel St Pierre du Luxembourg (XVIII°).
Chapel St Théodoric (XVI°). The Souspiron Fountain (XIV°)
Notre Dame de l'Assomption Roman church
The Wine cellars, the Wine makers museum.
Here's a wine map:
Rhône Valley / Southern: A detailed look at appellations including Châteauneuf-du-Pape, Gigondas and Vacqueyras, as well as the Côtes du Rhône and named Côtes du Rhône-Villages
http://assets.winespectator.com/wso/Maps/Rhonesouthmap.pdf
For more information on Rhone Wines visit:
http://www.rhone-wines.com/?chooseLanguage=false
Most of the Rose wine comes from the Cote de Provence between Nice and Aix-en-Provence. Tavel produces the  most famous Rose, located 8 miles west of Chateauneuf-du-Pape.
Wine-growing areas of Provence (Photo credit: Wikipedia)
Dr. EveAnn Lovero writes Travel Guides @ www.vino-con-vista.com
Related articles