When I visitied Houston last week, I toured Rienzi, the MFAH house museum for European decorative arts in Houston (pictured below).  I had a docent-guided tour and learned about the Masterson family and their amazing collection of furniture and decorative European objects from the mid 17th to 19th centuries. Rienzi houses a substantial collection of European decorative arts, including paintings, furnishings, porcelain, and an extensive holdings of miniatures.
Like Ima Hogg's historic Bayou Bend house, Rienzi is situated in the Homewood portion of the River Oaks subdivision. The historic River Oaks district in Houston has many architectural gems. Rienzi is located on 1406 Kirby Drive. It was completed in 1954, and its architectural style blends the contemporary with classical references to Palladian and 18th-century English architecture. Rienzi is situated on four acres of wooded gardens, about three miles from downtown Houston.
The Mastersons purchased the land from their neighbor Ima Hogg in 1952 and began working with John Staub, the architect of Bayou Bend, in the same year. Pictured below, is a portrait of Carroll Sterling Masterson. She was a descendant of founder of the Humble Oil and Refining Company in Houston. She died on February 18, 1994 in Houston.
The building was designed by the local architect John Staub in 1952 and was once the home of philanthropists Carroll Sterling Masterson and her husband, Harris Masterson III family for decades before it was donated to the Museum of Fine Arts of Houston. The mansion sits on a 4-acre lot bought that they purchased from their neighbor Ima Hogg.
Both Mr. and Mrs. Masterson (pictured below) were devoted to improving the Houston cultural scene. Together, they served as board chairman or president of most major Houston arts organizations. Some of their philanthropic interests included; the Wortham Center, Houston Grand Opera, Houston Museum of Natural Science, the Houston Ballet and the Houston Symphony, Alley Theater, Houston area hospitals and the Young Women's Christian Association. They were also supporters of the Republican National Party.
The Mastersons received numerous honors, awards and recognition for their work, including the National Medal of Arts in 1990 and Cultural Leader of the Year in 1974. The Masterson's relationship with the MFAH began in the 1953 and spanned several decades. In addition to gifts and donations made to the Museum of Fine Arts, Houston over the years, the Masterson's gifted Rienzi, their River Oaks home designed by architect John Staub, to the museum in 1991. Their collection of European decorative arts, including extensive holdings of Worcester porcelain, had been previously gifted to the MFAH. The MFAH assumed control of Rienzi following Mr. Masterson's death. It opened as the MFAH's center for European decorative arts in 1999.
The Rienzi residence is nicknamed after Harris Masterson's grandfather Rienzi Melville Johnston.  When the home was bequeathed to the Museum of Fine Arts, Houston, it welcomed visitors for the first time in 1999 when curators morphed the building as a satellite destination for European decorative arts.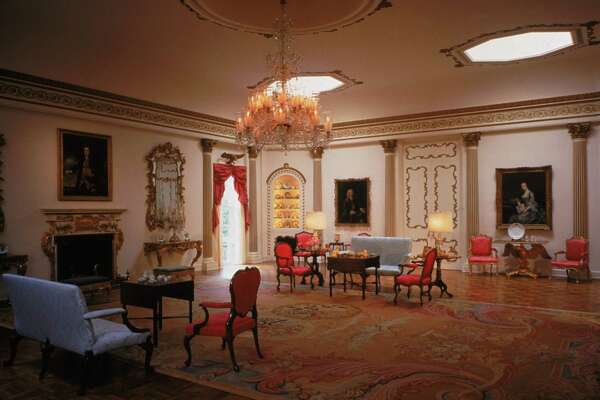 In 1972, architect Hugo V. Neuhaus added a ballroom, gallery, expanded foyer, and other spaces to the residence. This addition provided Harris Masterson more room for his growing collection of paintings, furniture, and English ceramics, which today form the core of Rienzi's collection.
Alhthough the couple formally gave Rienzi to the MFAH in 1991, and they continued living in the house until their respective deaths—Carol Sterling Masterson in 1994 and Harris Masterson in 1997. The home and its collections opened to the public in 1999.
The docent-guided tours are the perfect way to soak up the history of the home. After the house tour, I took a leisurely stroll through the beautiful wooded gardens.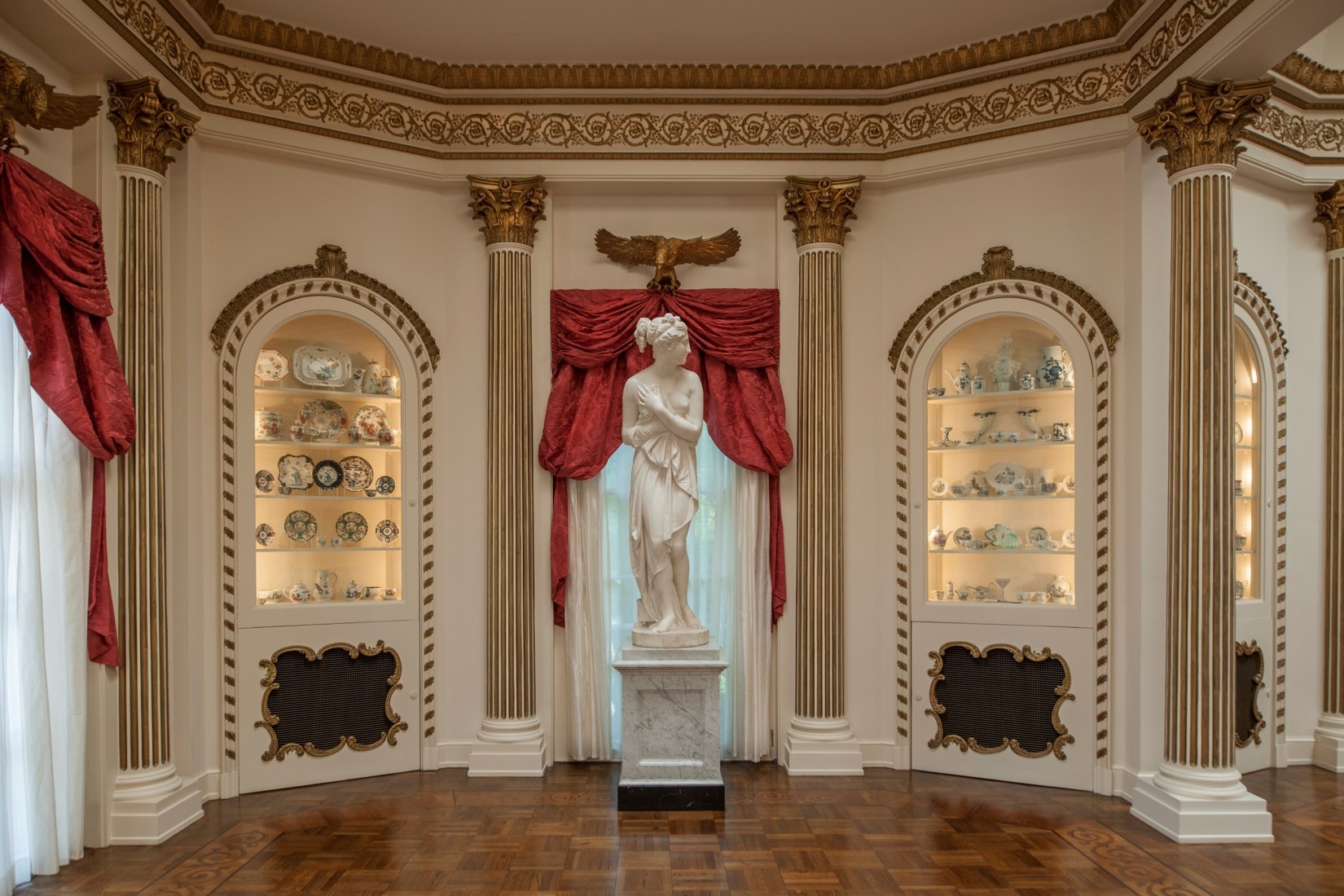 Visitors are invited to enjoy a variety of tours, family programs, lectures, concerts, and special events.
Because of the unique and intimate nature of Rienzi, visits to the house and art collection are by docent-led tour only.
Visiting Hours:
Wednesday–Saturday
10 a.m. | 11 a.m. | 12 noon | 1 p.m. | 2 p.m. | 3 p.m.
Sunday
1 p.m. | 2 p.m. | 3 p.m. | 4 p.m.
The marble sculpture mentioned in the letter is one of the collection's most impressive pieces. Giovanni Maria Benzoni's 1866 Young Dionysus with a Nymph — plausibly a classic nod to the couple's penchant for social affairs — anchors a skylight-kissed octagonal foyer with floors adorned with marble inlays, its walls coddling built-in displays teeming with delicate glass figurines.
About Studio Saturday
Enjoy Rienzi's galleries and gardens while you learn art fundamentals! Try your hand at drawing, composition, watercolor, and more. Discover new techniques to strengthen your skills. Studio Saturday features a different topic every time. All ages and skill levels are welcome.
This event is free with Rienzi admission. Reservations are encouraged: rienzi@mfah.org or 713.639.7800.
• Time slots fill up quickly, so reserve your spot in advance! Call 713.639.7800. Visitors without reservations will be accommodated as space permits.
• Rienzi's gardens are open for self-guided visits every day of the week: Monday–Saturday from 10 a.m. to 4:30 p.m. and Sunday from 1 p.m. to 4:30 p.m. Admission to the gardens is free.
The River Oaks Garden Club Presents an Annual Azalea Trail and Rienzi and Bayou Bend are part of the Trail.
By Elizabeth Anthony
Azalea is the name given to the various spectacular flowering shrubs (genus Rhododendron) of the Heath family that are in full bloom each spring in Houston. These showy flowers flourish in varying shades of pink, purple, white and red and are a magnificent sight to behold.
The Azalea Trail offers visitors opportunities to see fabulous floral designs by ROGC members, beautiful interiors, amazing architecture, and stunning landscapes. What started 80 years ago as a means to educate the people of Houston has now become the heralding symbol for spring.
The 80th annual Azalea Trail is sponsored by River Oaks Garden Club, a non-profit organization and a member of The Garden Club of America. Chairpersons of this event are Gayle Hightower and Mimi Prioleau. Tickets are available at various locations throughout the Houston area. For more information, call 713-523-2483 or visit riveroaksgardenclub.org.