If you follow my posts, you know that there are many exciting Holiday Events in Italy.  There are some interesting Christmas markets and events that you may want to attend in Tuscany over the holidays.
You can check out Cortona. Head over to Piazza Signorelli  for theatre performances, classical Christmas concerts and events. They also have a New Year's Eve celebration.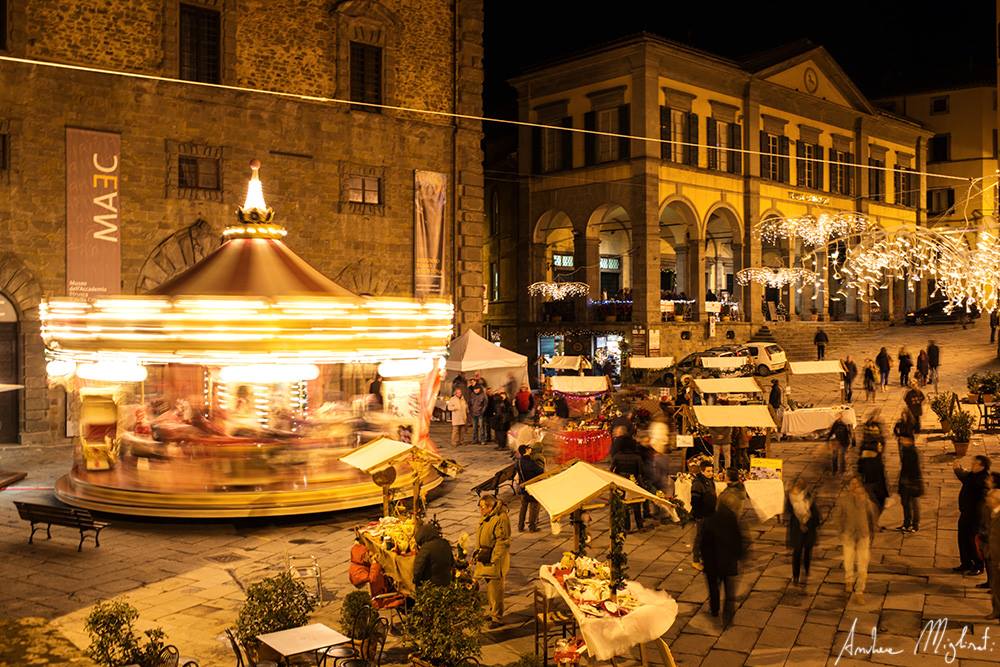 Christmas trees are illuminated in the major squares: Piazza del Duomo in Florence , Piazza Salimbeni in Siena, and  Piazza Grande in Arezzo .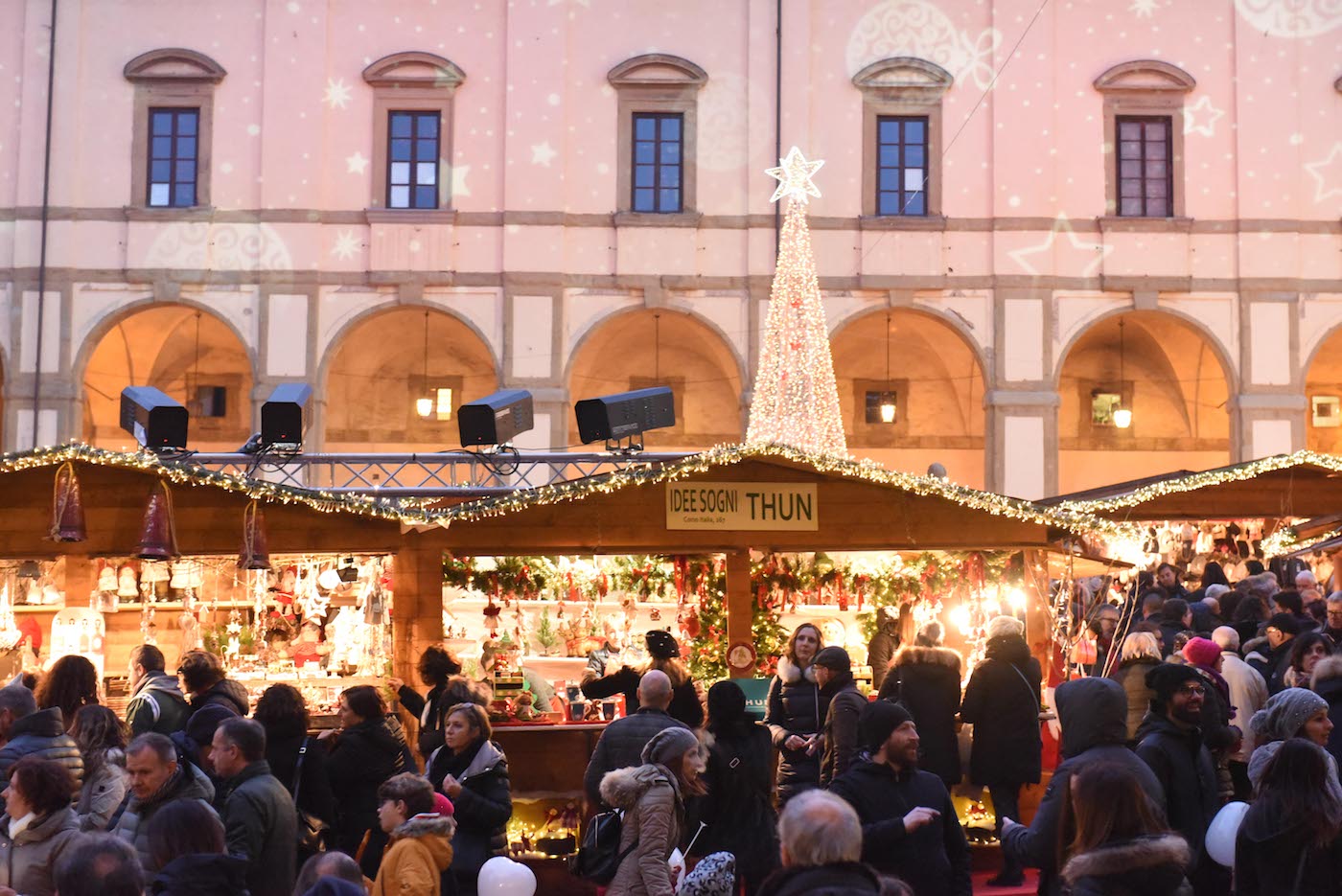 Tuscany is divided into ten provinces. Tuscany stretches over the slopes of the Apennines and borders the Tyrrhenian Sea. The landscape is mostly hilly with a flatter area along the sea called Maremma. Visit the wineries across the Chianti hills from Siena to Florence. The two notable wine towns of Montepulciano and Montalcino are also located in the province of Siena in Tuscany.
The largest Christmas market in Tuscany is held in Montepulciano until January 7th, 2019 in Piazza Grande.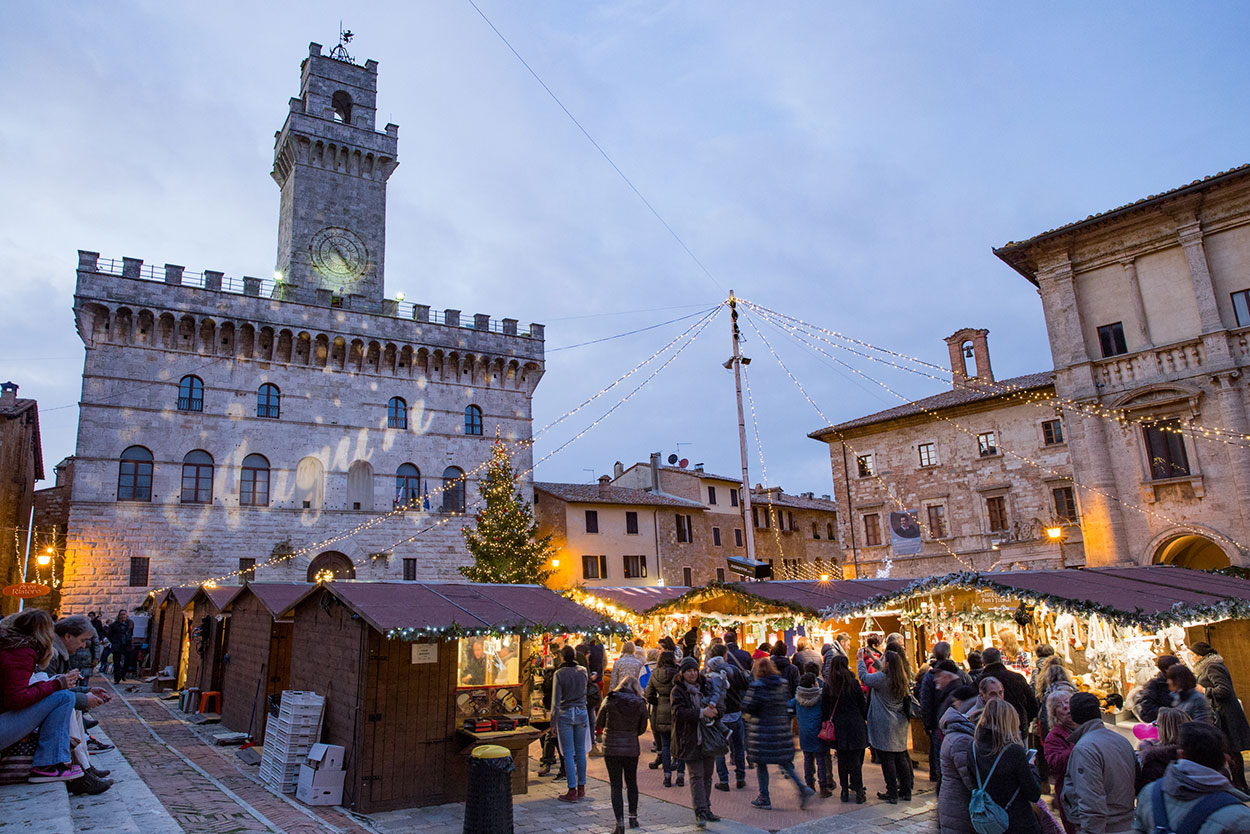 On of my favorite Tuscan towns is Siena. The historic center became an inscribed UNESCO site in 1995. Siena's yellowish brown buildings are the embodiment of a gothic medieval city.  Her golden age came to a screeching halt with the Black Death of 1348.
Enlightened travelers will love this charming city in the heart of Chianti country about 21 miles south of Florence.  Siena is the birthplace of Saint Catherine (1347), the patron saint of Italy. She received the stigmata at Pisa and her head is still housed in the Basilica of San Domenico.
The brick,  shell shaped brick Piazza del Campo is one of Italy's most triumphant piazzas, large enough to feature a semi-annual 350 year old summer bareback horse race called the "Palio delle Contrade."  The Piazza's surface is divided inato nine segments by colored paving stones, symbolizing the Council of Nine. Their members governed the city in her medieval heyday.  The Council met at the Palazzo Pubblicoon the eastern part of the square.
The residents of Siena were fierce rivals of the Florentines.  The distinctive 330 foot city watch tower Torre del Mangia bears witness to their intense rivalry.  Climb to the summit of the Gothic Cathedral; the summit of the tower offers a superb panoramic view of Tuscany.
Throughout the centuries, the residents preserved their city's Gothic appearance, acquired between the 12th and 15th centuries. In this period, the work of many artists including Duccio, the Lorenzetti brothers and Simone Martini influenced the course of European art. Many artists were influenced by Byzantium of the late 15th century. The entire historic city center of Siena, built around the Piazza del Campo, was devised as a work of art that blends into the surrounding landscape. In the southwestern quadrant of the city, the Duomo houses masterpieces by Michelangelo, Bernini and Donatello.  Visit Ambrogio Lorenzetti's, "Allegory of Good and Bad Government" (1318), in the Palazzo Pubblico in Siena.
There are many Holiday Events is Siena and other charming provinces of Tuscany:
In the Province of Siena
"Un Natale Speciale" in the town of Chiusi from December 6-25
The Feast of San Lucia on December 13th in the Church of Saint Lucia in Siena
Festa dell'Olio in mid-December
A New Year's Eve Concert in Piazza del Campo in Siena
"Mostra dei Presepi" is the 16th Annual event in Bottolle (Citta dei Presepi) in Sinalunga Siena from December 12th to January 16th
In Montepulciano attend the Festa e Fiera di Natale
More Events in Tuscany
In Equi Terme witness the "Presepi Viventi"–living Nativity Scenes
Fiera de San Michelle on December 8th in Lucca
The Barga Chocolate Festival on December 4th and 5th in Lucca
In Lucca between December 25 and January 1st there are weekly Puccini concerts at the Basilica of St. John
In Arezzo attend the Honey Festival on December 12-13 in Piazza Risorgimento
Slow Christmas Exhibition in Cutigliano Pistoia from December 4th-12th
Buon Natale and Happy Holidays from www.vino-con-vista.com