Who doesn't love the iconic Marshall Field's Clock? Let's start a State Street culture walk at the clock on the corner of State and Washington.
There is only one Great State Street in Chicago. Celebrated in Frank Sinatra's iconic song, it  has been known as a concentration of premier department stores and world-class architecture since 1870. State Street is a reflection of Chicago's mercantile beginnings. State Street developed as the city's shopping mecca when entrepreneurial Potter Palmer recognized that the  curve of the river would limit Chicago's potential for economic growth which was concentrated on Lake Street. Potter Palmer effectively moved the city's main commercial district from Lake Street, which ran east and west, to State Street, which ran north and south, parallel with Lake Michigan. Potter Palmer is also responsible for widening State Street.
In 1860, State Street was a narrow unpaved street edged by wooden sidewalks and small shops. Potter Palmer founded a dry goods store, Potter Palmer and Company, on Lake Street in Chicago in 1852 that focused on female patronage. Palmer was the first owner to advertise with large window displays that included price comparisons.
Palmer Potter was in business with Marshall Field and Levi Leiter in a Lake Street store before the Civil War. He purchased a 3/4 mile parcel along State Street and persuaded his business partners to open a major department store at State and Washington. The trio joined forces and renamed the firm Field, Palmer, Leiter and Company. The store would eventually develop into the prominent Midwestern department store chain of Marshall Field and Company. When the city's first subway system was completed under State Street in 1943, it provided pedestrian connections to the basement of Marshall Fields.
Palmer built several buildings along State Street on property he owned, including the Palmer House Hotel. Palmer is buried in Graceland Cemetery.
Walking down Palmer Potter's historic State Street is a joy for history buffs and architecture junkies. Splendid department store architecture on State Street reflects the genius of Chicago's early architects including: William Le Baron Jenney, Louis Sullivan, William Holabird, Martin Roche and Daniel Burnham.
Since Chicago's central business district was geographically confined by the Lake, the River and railroad yards the only route for expansion was up; architects designed and  deployed magnificent steel-skeleton skyscrapers. The commercial style that developed in the Chicago Loop between 1880 and 1910 became known as The Chicago School of Architecture with steel frame construction, plate glass, fireproofing techniques and  elevators.
Here are some of the architectural landmarks on State Street:
1. The 15 story Chicago Savings Bank Building at 7 West Madison designed by Holabird & Roche in 1905. The interior steel framework forms the basis for the building's exterior grid-like design with vertical piers and horizontal bands with  brown terracotta cladding. The large Chicago have single pane glass flanked by two operable side openings. The combination of the north side projecting bay windows, and the east side rectangular "Chicago windows" with movable sashes represents the two typical Chicago school window types.
This is one of the best remaining examples of a Chicago School office building. In 1997, it was converted to a  dorm for the School of the Art Institute of Chicago.  The corner of the 3rd floor of the Chicago Building contains the cornerstone of Chicago. The building is prominently located on the southwest corner of Madison and State Street; it is the 0-0 degree point of the city, and is the location from which all addresses in Chicago begin.
2. The North American Building designed by Holabird and Roche in 1912 with white glazed terracotta  and elaborate Gothic Revival flare it looks like a 15th century cathedral. The original elaborate ornamentation included four foot terracotta owls perched atop the building.This location serves as a physical segue from the retail district to the financial district on the northeast corner of State and Monroe. Since Potter Palmer's initiative to shift the city's retail focus from Lake Street to State Street 50 years earlier, State Street was poised for continuous expansion.
The street level retail space was capped by two floors of tall, wide open window to facilitate prominent display space.  The original design contained a sweeping marble lined staircase like the Rookery, centered on the ground floor corner at State & Monroe which led to a restaurant below. It has been converted into condominium apartments.
3. The Mandel Brothers Building  at 1 North State Street was built in 1910 by Holabird and Roche. This retail enterprise, which would become one of Chicago's leading department stores, was founded in 1855 by Bavarian immigrants Solomon Mandel and his uncle Simon Klein. Their first store was located on Clark Street. In 1865, after Solomon's brothers Leon and Emanuel joined the firm, its name became Mandel Bros. Purchasing in New York and Paris and selling in Chicago, the enterprise grew. By the 1880s, its new store on the corner of State and Madison Streets employed about 800 people. By the beginning of the twentieth century, the workforce had grown to over 3,000 people. It was one of the city's largest and busiest department stores during the late nineteenth and early twentieth centuries. Rebuilt in 1912 and renovated in 1948, the State Street store continued to operate into the 1970s, when the company folded amid State Street's demise as a major retail center.
The State Street location proved to be a prosperous one for Mandel Brothers. As business picked up during the 1880s and 1890s, the Mandel's gradually expanded their store by purchasing or leasing several adjacent properties. In 1884, they purchased the building at 117-119 State Street, followed by the building at 111-115 North Wabash Avenue in 1893. Five years later, they added the five-story building at the northeast corner of State and Madison Streets and undertook a massive rebuilding project that joined all three State Street stores into one, increased their height to a uniform eight stories, and they replaced their brick and stone fronts with a cast-iron facade designed to resemble those of the most fashionable Paris department stores of the era. The rebuilt structure, with its new elevators, eighth-floor cafeteria, ladies' waiting rooms, and a series of street-level, plate-glass display windows, set a new standard for the city's department stores.Beginning in 1898, a second generation of Mandels, led by Frederick Leon Mandel, son of Leon Mandel, assumed greater control over the firm's operations. Under their management, Mandel Brothers moved forward with additional store expansion projects. In 1900, the firm secured the leasehold on the former site of the A.C. McClurg dry goods store at the northeast corner of Madison Street and Wabash Avenue. On this property, the firm erected a massive new, twelve-story building designed by Holabird & Roche, which was completed in 1901 and gave the firm a continuous frontage along Madison Street between State Street and Wabash Avenue. Then, in 1912, Mandel Brothers replaced its aging State Street buildings with a single, modern 16-story structure, likewise designed by Holabird & Roche.
---
Mandel Brothers continued to grow during the 1920s. In 1928, annual sales revenue surpassed $25 million for the first time in store history, yielding a profit of over $250,000. Business slumped badly during the Great Depression of the early 1930s, with annual sales dropping to below $15 million. The store lost nearly $900,000 in 1931. By the late 1930s, however, the situation improved. In 1937, the store turned a $408,000 profit, the largest since 1927.
Sales and profits at Mandel Brothers surged to new highs during the Second World War, as the wartime economy all but eliminated local unemployment and boosted Chicagoans' wages. Store profits climbed to $1.2 million in 1944 and annual sales revenue reached an all-time high of $36.3 million in 1948. Like other Loop department stores, Mandel Brothers made several noteworthy contributions to the national war effort. In 1942, for example, the store donated its 300 air-conditioning compressor units to the War Production Board for use in the production of synthetic rubber, high octane gasoline, and other war products. New units were not installed until after the war's end in 1945. Store executives and employees actively supported the local war bond drives.  Leon Mandel, Frederick Leon Mandel's son, temporarily left the business to serve in the Army Air Force. Mandel Brothers was also the site of Chicago's Air WAC Corner, where members of the Women's Army Corps discussed the domestic war effort with store customers.
Immediately after the war, Mandel Brothers spent more than $2.2 million on store renovations and other upgrades that had been deferred due to wartime restrictions. The firm installed an employee service center, a new employee cafeteria, a new air-conditioning system, and new escalators above the fourth floor. Several floors were completely redecorated. The store's communications system and steam and electric generating plants also received major overhauls. All renovations were completed by early 1948.
Despite the improvements, business at the store declined between 1948 and 1949, and continued to do so during the 1950s as more and more Chicagoans moved to the suburbs and shopped in the Loop less often. Between 1948 and 1958, annual sales revenue dropped 19.4 percent from $36.3 million to $29.2 million. In an attempt to capture some of the expanding suburban retail trade, Mandel Brothers opened a branch store in the Lincoln Village shopping plaza at Lincoln and McCormick Avenues in November 1952, but the one-story store was too small and sales volume too meager to save the struggling firm financially. Between 1952 and 1960, Mandel Brothers posted an annual profit only twice and lost $3.27 million.
With losses mounting, store executives, several of whom were Mandel family members and over sixty years of age, began to look for ways to liquidate the business. A 1955 plan to sell the store to a group of eastern investors for a reported $9.3 million, though at first quite promising, never materialized. Then, in April 1960, merger talks began between Mandel Brothers and Chicago's Wieboldt Stores, Inc. After lengthy discussions and the requisite approvals by shareholders of both companies, Wieboldt's agreed to purchase Mandel Brothers for $2.75 million and stock transfers. The deal was finalized in August 1960. With the deal, the Mandel Brothers nameplate disappeared from Chicago's retail landscape and Wieboldt's, one of the city's oldest department stores, gained a presence on State Street for the first time.
Wieboldt's occupied the former Mandel Brothers flagship store until 1987. After Wieboldt's closed, the former Mandel Brothers buildings were partially refurbished and subdivided into offices and several individual retail stores, including a Filene's Basement and a T.J. Maxx.
Mandel Bros.
At the Chicago History Museum you can see some interesting pictures including: interior views of Mandel Brothers department store located at State and Madison Streets in Chicago Departments,  home furnishings and furniture, yard goods, ladies' and children's clothing, menswear, umbrellas, gloves, belts, and other accessories.
There are alos group pictures (probably the Mandel brothers), and employees working in offices and stock rooms, the elevators, dining room, and other store features. Electric lighting is visible in many photographs. Most images show employees, including women in sales or office situations.
4. The 14-story historic glass and white-glazed terra-cotta Reliance Building at the corner of State and Washington (at 32 North State Street) is now the home of the elegant  122-room Staypineapple, An Iconic Hotel, The Loop (formerly the Hotel Burnham) and Atwood Cafe.It was designed by Burnham and Root.
Carson Pirie Scott & Company before moving to Target's current location on State Street was originally operated of the ground floor of this building where the Atwood Cafe and Lobby are presently located.
The Reliance Building is also part of the Loop Retail Historic District, a collection of over one hundred buildings that reflects the growth of State and Wabash Streets as the central retail district of Chicago. The building fell into disrepair starting in the 1940s, and was restored in the late 1990s.
5.  Next, we can travel to the Charles A. Stevens Building at 17 N. State by D.H. Burnham and Company, 1912.
D.H. Burnham and Company of was an architecture firm based in Chicago, Illinois. As successor to Burnham and Root, the name was changed once John Root died in 1891. Root was the chief consulting architect for the World's Columbian Exposition. After Root's death, Daniel Burnham took that title along with his old title of Chief of Construction.
6. The dark gray brick Mentor Building at 6 East Monroe was designed by Howard Van Doren Shaw in 1906. There are recessed horizontal bands of windows that are framed in terra-cotta with ornamental piers. It retains its original cornice on top.The Mentor Building is a 17-story condominium building recently converted to a mixed-use property with office, retail and residential uses.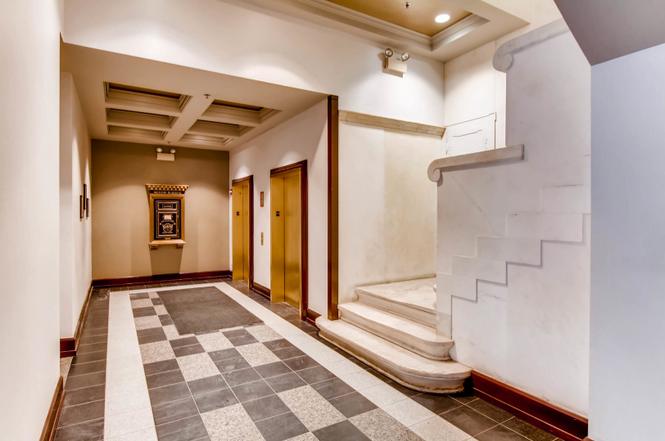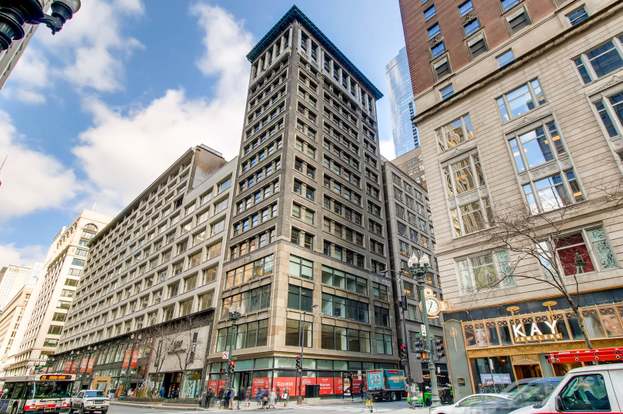 7. The Carson Pirie Scott & Company Building at 1 South State Street was designed by Louis Sullivan between 1899-1904 and is regarded as his greatest masterpiece. The upper floors are sheathed in cream colored terracotta with Chicago Windows. The ground level has magnificent ornamentation. The lavish Bronze-plated cast-iron ornamental work above the rounded tower was also meant to be functional because it was to be as resilient as a sheet of copper. Both the use of bronze and terracotta was important to setting the building apart from others because it was essentially fire resistant. To ensure this great building would last and be resilient against the threat of fire, there was a 40 ft water tower put on the roof to supply the sprinkler system with enough water.
In 1906, D.H. Burnham & Co. extended the store by building 5 window bays. Holabird and Root added 3 more bays in 1961.
Today it is called The Sullivan Center. Tenants of the Sullivan Center include the School of the Art Institute of Chicago and Target.

State Street is the location of many landmarks in downtown Chicago:
A.M. Rothschild & Company Store (DePaul Center)
University Center
Mentor Building
Palmer House