I love Chicago's Restaurant Week line-up! It is an annual winter foodie fest with over 233 restaurants joining together to offer up $22 lunches and $33 or $44 dinners. Chicago Restaurant Week is a celebration of Chicago's finest culinary talents so start making your reservations today.
WHEN: January 24th through February 6th, 2014.
Find participating restaurants at http://www.choosechicago.com/things-to-do/dining/chicago-restaurant-week/
In addition to a myriad of dining options during the two week period, tickets are available now for the First Bites Bash 2014. This is the annual kick-off event for the annual Chicago Restaurant Week festivities. Sweet and savory tastings from Chicago's most celebrated restaurants and chefs will in the magnificent Great Hall at Union Station.
First Bites Bash 2014
First Bites Bash is the official kick-off event for Chicago Restaurant Week, produced by Choose Chicago. Head inside the magnificent Great Hall at Chicago Union Station for a food-filled evening.
WHEN: Thursday, January 23, 2014
Executive Chef Paul Kahan will host this year's event. A portion of the proceeds will benefit two local charities, Gilda's Club Chicago and Pilot Light.
Beverage partners Goose Island and Terlato Wines will be providing beer and wine tastings to compliment the savory items from the restaurant partners.
First-in-line tickets: $100 (available for a limited time only)
General admission: $125
Dr. EveAnn Lovero writes Travel Guides @ http://www.vino-con-vista.com
WHERE: Great Hall at Union Station in Chicago
Online reservations will be available beginning early January 2014 at www.eatitupchicago.com.
Here's last year's line-up: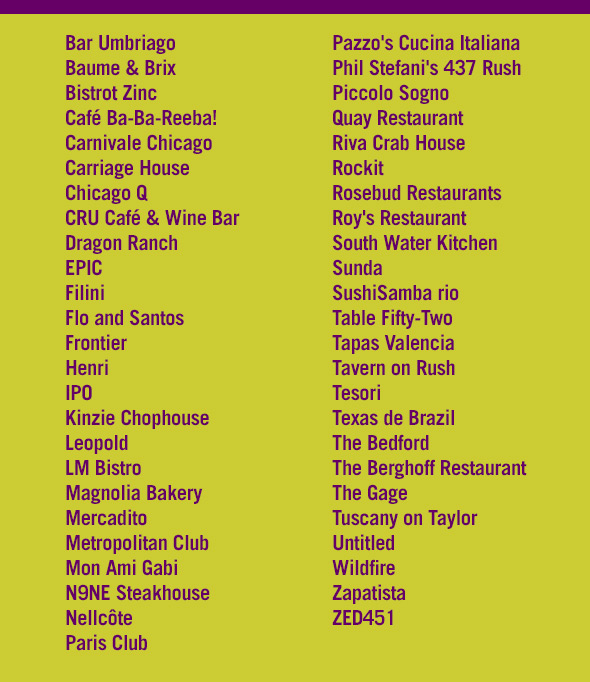 Dr. EveAnn Lovero writes Travel Guides @ http://www.vino-con-vista.com
Related articles