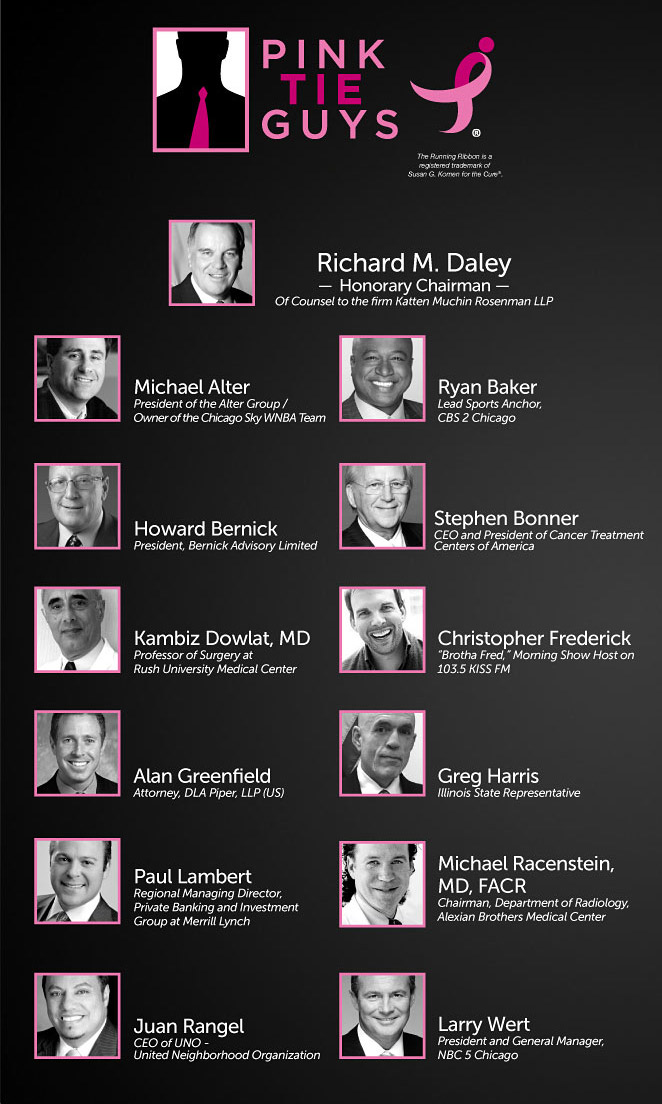 October is Breast Cancer Awareness Month. On Thursday, October 13, 2011 the Pink Tie Guys were honored at Chicago's First Pink Tie Gala in the Tribune Tower at 445 N. Michigan Avenue. The event featured  Chicago cuisine, cocktails and live music.
These wonderful gentleman where leaders in the fight against breast cancer. This exclusive group of philanthropic "KoMen" are  leaders in the Chicago community who have had a personal connection to breast cancer. They are making a difference in the fight against breast cancer and will serve as ambassadors by speaking out in their communities to help find cures to end breast cancer forever. They were nominated by the Chicago community and selected by the Komen Chicagoland Board of Directors. For more information go visit KomenChicago.org. 
Ruth Todd, Board President of Susan G. Komen for the Cure in Chicago said: "We are thrilled to extend this honor to these outstanding leaders in the Chicagoland community working to fulfill our mission of a world without breast cancer. While traditionally a woman's disease, the reality is, men can get breast cancer and men are deeply impacted by the effects this disease has on their mothers, sisters, aunts, daughters and other loved ones."
All fundraising money raised at the event and by ticket sale proceeds goes to Susan G. Komen for the Cure – Chicago. Tribune Media Group will be making a minimum donation of $4,000 to the Komen organization in honor of the Pink Tie Guys.
I lost my mother and aunt to breast cancer and two of my closest friends are breast cancer survivors. Thank God for the Pink Tie Guys!
Related articles