Chicago's Restaurant Week starts in February. Tickets are available now for the First Bites Bash 2013. This is the annual kick-off event for the sixth annual Chicago Restaurant Week. Sweet and savory tastings from 50 of Chicago's most celebrated restaurants and chefs will be featured in the magnificent Great Hall at Union Station Thursday, January 24 from 6 p.m. to 9 p.m. where you will enjoy savory and sweet tastings from over 50 of Chicago's most celebrated chefs and restaurants.
Dirk Flanigan, Executive Chef of Henri and The Gage will host this year's event, from which a portion of the proceeds will benefit Bear Necessities Pediatric Cancer Foundation.
WHEN: Thursday, January 24, 2013
WHERE: Great Hall at Union Station in Chicago
Tickets are available for purchase online for $95 per person.  "First in line" pricing at $75 per person is available for a limited time.
Chicago Restaurant Week is a celebration of Chicago's finest culinary talents.  The 10-day experience begins February 1 and runs through February 10 with more than 250 participating restaurants featuring prix fixe lunches for $22 and dinners for $33 and $44, excluding beverages, tax and gratuity.
Online reservations will be available beginning early January 2013 at www.eatitupchicago.com.
Check out the line-up: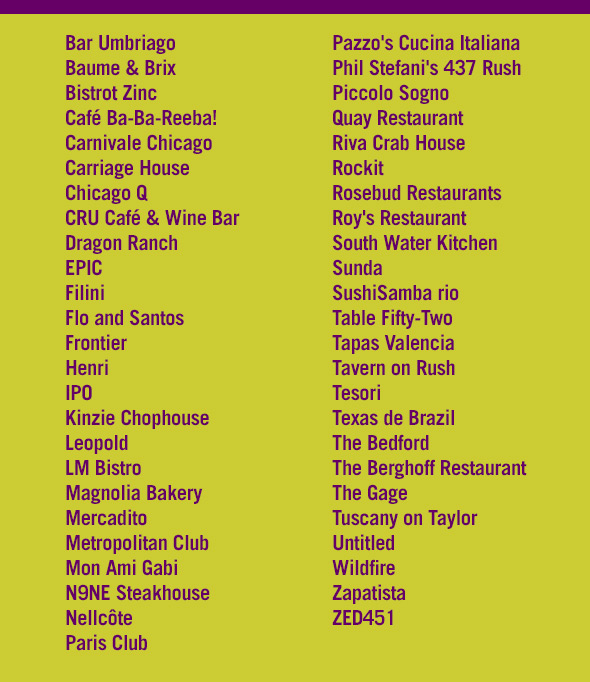 Dr. EveAnn Lovero writes Travel Guides @ http://www.vino-con-vista.com
Related articles